Make more health-conscious choices while also helping the environment!
Sustainability is at the forefront of many minds for both businesses and consumers. 
One method increasing in popularity is decreasing fuel emissions through more environmentally-conscious transportation, such as electric bicycles.
Richmond E-bike is passionate about helping customers better understand the benefits of E-bikes, whether they're looking to learn more and just starting out, or upgrading their current model.
That said, here are five benefits of riding an electric bike.
Faster transport times
Most Thunder E-bikes come with a powerful gear hub motor, the bike can travel up to 32km/h on the throttle, which is a fully electric mode. 
This increased speed on the pedal-assist levels allows riders to travel much faster than they could pedalling normally, meaning you can reach your destination that much faster.  This is a useful key for those who commute to work but don't want to show up sweaty.
Under Motor Assisted Cycle Regulation criteria, electric bikes must not have an electric motor that is more powerful than 500 Watts, and the bike should not travel faster than 32 km/h.
Improved fitness
An electric bike is like a mobile-treadmill — you get to do your exercise, but it's outdoors, so you also get to enjoy the
views and getting fresh air. 
Riding an e-bike helps promote cardiovascular health, improve muscle tone, reduce stress, and help with weight management. 
If you are looking for a more challenging workout, you can still use an electric bike like a regular one in pedal-only mode, which doesn't use the electrical power at all.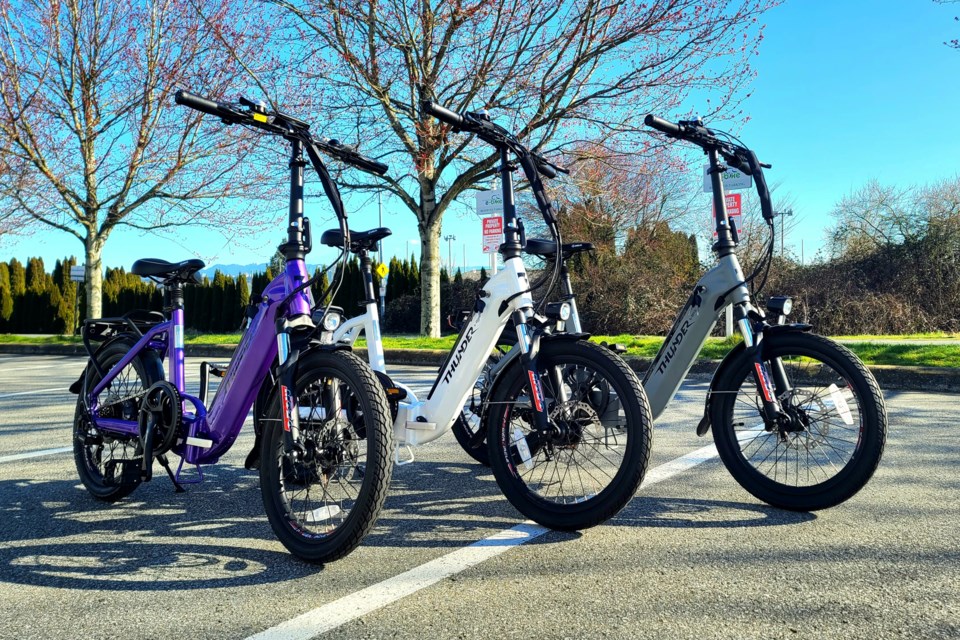 Thunder E-bikes. Photo: Richmond E-bike
Convenient commuting 
We've all been there. You're on your way to work or to meet with friends, etc., but you're stuck in traffic.
Enter the E-bike! 
E-bikes are faster than regular bicycles, thanks to the electric battery. This added speed allows you to cover more ground. Pair that with using bike lanes instead of being stuck in traffic? Yes, please! 
Cost-effective
Given rising gas prices, E-bikes pose a very appealing financial alternative to other motor vehicles.  
E-bike batteries can last between 40 to 150 kilometres on a single charge depending on the model. Factoring in other routine maintenance costs associated with cars, E-bikes present a viable and affordable method alternative. Furthermore, a driver's license and insurance are not required for electric bikes.
Thunder E-Bike by Richmond E-Bike offers several models of varying price points to help you find the perfect match for your needs and lifestyle. Some are even foldable! Not only that, Thunder E-bike is designed in Canada and assembled by Richmond E-Bike in-house. With higher components like a Bafang motor, certified Samsung and Panasonic Lithium batteries, and Shimano parts, the Thunder E-bike brand is a truly made-to-last electric bike.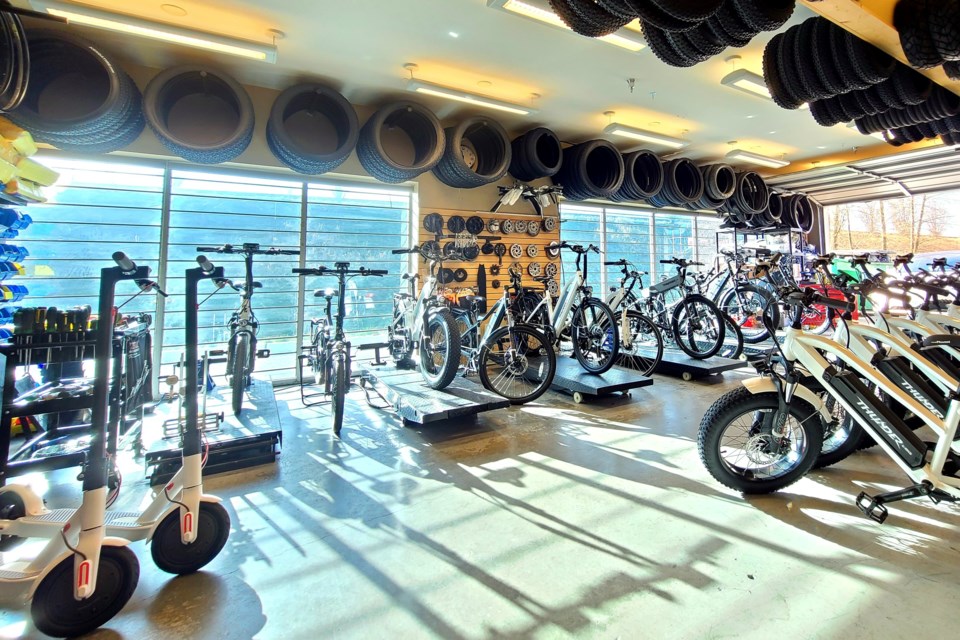 Richmond E-bike Number 1 E bikes Service Center. Photo: Richmond E-bike
Sustainability 
Last but certainly not least, one of the most significant arguments in support of E-bikes is their eco-friendliness. 
Electric bikes help minimize your carbon footprint, decreasing your overall environmental impact, especially when compared to gas or diesel-powered cars or even public transit. 
E-bikes help by cutting down on fuel emissions, reducing air pollution, and improving air quality. This means of transportation poses a promising option for the future of transportation, and Richmond E-Bike is driving - or should we say pedalling - the charge.
Not only in the business of selling, Richmond E-Bike also runs a full-service service center to help you with any questions, including maintenance and warranties, expert advice, and more.
Learn more and find the best model for you at richmondebike.com. 
Read more Vancouver Is Awesome 
---